Dear Protectionists,
What a night at Leichhardt Town Hall! Ray Martin and Fitzsimmons did their best to try and link racist connotations to our beautiful flag but failed dismally.
There was no rational argument to change our flag but wild emotions flowed from the loony left in their desperate attempt to build momentum to change our flag.
The whole charade was a disgrace and farce. The Republican ghouls were placed down the front, the microphone was not evenly distributed to audience to gauge opinion (over 70% of mic. time belonged to the Republicans) and there were 2 negative anti-Australian flag videos shown. The first video was of the Cronulla riot which flag hater Fitzsimmons tried to link to racism and the 2nd video featured a white Koori (actually just as white as me) talking about his culture and the need to change?
I was glad to stir the pot a few times and give it to Ray and Fitzsimmons, they both didn't like to be challenged. Fortunately I was finally able to meet Pauline Hanson and thank her for her Patriotic work in the past.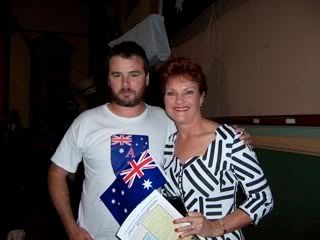 To be honest I've seen more culture in a tub of yoghurt than the dribble that flowed from the flag haters.
Pls. watch 60 minutes this Sunday night as this episode will feature the bogus flag debate.
Don't forget to get to Dawn Service on Anzac Day and remember our men and women who paid the ultimate price.
We will be in the City so if you'd like to meet up for a beer and watch the march give us a call.
By the way Protectionists on the day will make a video to counter Ray's bogus non-argument on changing our flag.
'OUR FLAG FOREVER'
Cheers,
Nick